School Growth
We have completed a wonderful half term as a community, a community that has grown considerably with children joining us throughout the school at the beginning of the school year. This is particularly the case from a Senior School perspective. Our pioneering Year 7 have been exceptional, enjoying a very well organised induction to the Prep Seniors experience, fully embracing Common Entrance and all of its benefits and benefitting from numerous leadership, responsibility and team work opportunities, none more so than their recent Inspector Clouseau trip to London. We welcomed a significant number of children to this year and have many more joining them in Year 9.
The growth of our school will continue within the capacity that we have set in place for all year groups. Our recent Open Mornings and personal tours have seen near to a hundred families visit Hoe Bridge, most of whom are looking for Year 7 places in the next two years. We continue to receive enquiries and with a very strong number of our own children already committed to staying for the Senior School, the health of our expansion is extremely good.
We have also seen growth in the lower years in Prep and older years in Pre-Prep, moving us towards a comfortable capacity for these areas and a size that is more than catered for by experienced, very well qualified and passionate professionals. Our school is in very good health, with the benefits of our unique through school model very much placing Hoe Bridge at the forefront of the Prep and Senior School world.
Academic
Over the recent weeks the structure of the Senior School timetable has been at the forefront of discussions. After a period of research, we have decided on GCSE exam boards for each subject and this decision has then informed our curriculum build for Year 9. We continue to strive for a curriculum that encourages intellectual curiosity and the 13+ CE syllabus continues to offer the stretch and challenge needed to best prepare our pupils for GCSE and beyond.
We have added a number of initiatives into the timetable to ensure that we are educating the whole child, and creating a balanced curriculum. Pupils in the Senior School will have a timetabled Critical Thinking lesson each week, this will encourage them to problem solve and think carefully about the world around them. The syllabus will encourage pupils to identify different points of view, construct arguments and evaluate the arguments made by others. The course will include links to current affairs and politics, with each pupil given the opportunity to discuss and debate a broad spectrum of topics in order to gain a greater understanding of the world around them.
Another exciting addition to the Senior curriculum will be a Reading For Pleasure lesson. The benefits of reading for pleasure are endless, as it inspires creativity, increases empathy and reduces stress. In addition to this, a recent Cambridge University study found that reading for pleasure can 'improve a young person's cognition, mental health and brain structure which are cornerstones for future learning and well-being' (Yun-Jun Sun & Barbara J. Sahakian et al.2023). Reading will be completed in English groups and the sessions will include anthology reviews, extract exploration and assistance with book selection from the English Department.
One afternoon a week, pupils will take part in enrichment activities. The sessions are designed to encourage students to learn a skill, try new things and find fresh challenges. Activities will range from academic societies, creative clubs, new sports and guest speakers. Activities will rotate throughout the year and in Year 9, Year 10 and Year 11, there will be a new programme of enrichment to discover. Our aim is that pupils' passions can be encouraged and new adventures explored, creating well-rounded and interesting young people who are ready for the challenges of the real world.
At the end of each day, pupils will return to their form rooms for Independent Study sessions. This will be an extension of the popular prep sessions that we currently offer. Pupils will be able to complete prep work and revision in school, with the added option of attending subject clinics during Independent Study. This flexibility will allow pupils the opportunity to meet with subject specialists for additional support and also complete practical work in specialised rooms.
Our Senior School will focus on creating a balanced and broad curriculum with endless opportunities to encourage independent thinking. Although the curriculum focus will shift as we turn our attention to the GCSE programme of study, our Senior School pupils will benefit from the same exciting academic development and creativity they have enjoyed throughout their Hoe Bridge journey.
Minibus Expansion
Our planned developments in terms of minibus travel for children at both the beginning and end of the school day continues to be a considerable success. We now have two minibuses taking multiple routes in both the morning and afternoon. Flexibility is the key, with routes allowing children to arrive early for Breakfast Club or on time for registration and being able to select their departure time with Prep and After School Activities finishing at variable times. Two will shortly become three and even four, as families utilise this effective and efficient service for their children. With the significant increase in older children, we expect to be nearing our Transport Plan objectives at the beginning of the academic year 2024/25, collecting children from all around the local area. This is very much a strategy to support our families and reduce traffic on our roads. Equally essential is the impact that behavioural changes such as this have on our environment, something we are working incredibly hard with to help our children understand what is necessary for the future. Carsharing, walking, cycling and utilising our minibus service are all ways in which we can take words, put them into action and help teach this generation of the impact that they can have through their lifetime.
Committee
Next half term will see the formation of this years Hoe Bridge Senior School Committee's. We will formalise both a separate pupil and parent committee, comprising of willing participants with a passion to progress our thinking and help ready all areas of our expansion into Senior School education. Not forgetting that we already have the first two years of Senior School year groups in Year 7 & 8, this will allow for a collaborated growth in ideas well in advance of their inception when Year 9, 10 & 11 are formulated. Parents will be contacted with the opportunity to put themselves forward, whilst all of our children in our pioneering Year 7, and children currently in Year 6 who are staying with us for the Senior School, will be tasked with brainstorming numerous areas of development. An exciting time ahead and a chance to shape the future of our wonderful school community.
Scholarships
At Hoe Bridge, we know that all children are special and have unique abilities. As a school, we are keen to recognise and nurture particular talent in certain areas and wanted to remind you of our scholarship programme that carries a % fee remission. These scholarships are available at both 11+ and 13+. Children who are awarded a scholarship will be championed to the very best of their ability through a unique scholars programme led by specialist department heads. To talk more about a scholarship for your child, please speak to Mr Webster directly or for more information, please click here.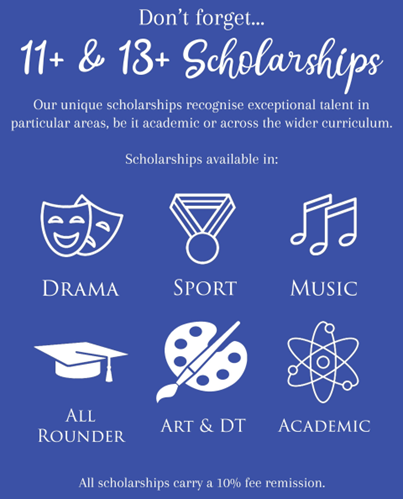 GCSE, Class Sizes & Technology
It is difficult for us to comprehend that in the future, our children are likely to have careers and jobs that we as adults, do not even know exist yet. With this in mind, it is important that children are given the opportunities in their education that allow them to explore talents and skills that sit beyond the core curriculum. As the journey towards our Senior School continues, we are delighted that we will be able to offer a considerable number of GCSE options to the pupils, many more than other local schools. From business studies to dance and engineering to computer science, we will be offering specialist subject teaching in every subject area, giving the children in Years 9, 10 and 11 every opportunity to reach their fullest potential at this critical stage of their education in our specialist GCSE Hub.

We have made a commitment to keep all our Senior School year groups to a maximum of 63 to ensure that the staff fully understand and know every child, as they do now in both Prep and Pre-Prep. By keeping to these lower numbers, staff will be able to focus more on individuals and identify any gaps in learning very quickly. Such a personal approach benefits every child and is not something that is possible at larger schools.
We are also very proud of our one to one iPad programme that we will continue to offer to all our pupils as they move into the Senior School. We are committed to embedding technology into the educational provision that we offer at Hoe Bridge and will not standstill in this area. Innovation will be at the forefront for our Senior School as it evolves. As a school, we are tremendously excited about the future of Hoe Bridge. We will be the very best co-ed through school in the local area serving local local families.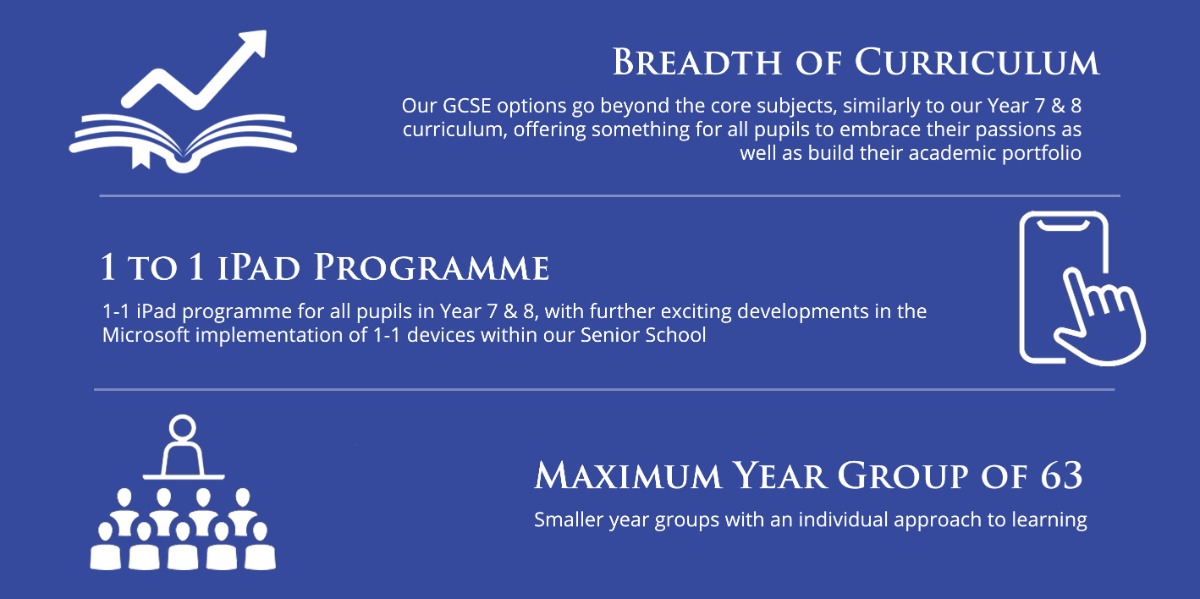 Wellbeing
At Hoe Bridge, wellbeing is not just a buzz word we focus on for a week each term. We are committed to putting our pupils at the heart of what we do, day in day out. As we extend our educational provision to include a Senior School, our Assistant Head Pastoral, Stephen Arnott, talks about how wellbeing will remain at the top of the agenda for our pupils and staff alike. To listen to Mr Arnott, click here.